As 4K resolution has become more available, the price of full HD projectors has steadily dropped—and that's great news for anyone putting together a home theater on a budget. The best 1080p projector matches higher-resolution models on features like installation ease and streaming support, giving users exceptional performance at an incredible value.
Not sure which full HD projector to buy? You're in the right place! We've picked out our favorite 1080p projectors on the market today and compared them side by side. Based on all the factors, the Epson EpiqVision Ultra LS300 is the best model for a home theater (>>> Check its pricing on Amazon). This doesn't mean it's the best choice for everyone, though. Let's take a closer look at where each comes out ahead.
Best 1080p Projector – Top picks in 2021
| | Epson LS300 | Epson 2250 | Optoma EH335 | XGIMI Horizon | Epson Pro EX9240 | BenQ TH685i |
| --- | --- | --- | --- | --- | --- | --- |
| | | | | | | |
| Resolution | 1920×1080 | 1920×1080 | 1920×1080 | 1920×1080 | 1920×1080 | 1920×1080 |
| Brightness (Lumens) | 3,600 ANSI | 2,700 ANSI | 3,600 ANSI | 2,200 ANSI | 4,000 ANSI | 3,500 ANSI |
| Contrast Ratio | 1,500,000:1 | 70,000:1 | 20,000:1 | 1,000:1 | 16,000:1 | 10,000:1 |
| Input lag | 50ms | 27ms | 17ms | 35ms | 16ms | 8ms |
| Throw Distance | 0.1′ – 1.3′ | 4.7′ – 29.0′ | 3.3′ – 32.2′ | 2.6′ – 26.2′ | 4.7′ – 28.8′ | 3.2′ – 24.6′ |
| Screen size | 61″ – 120″ | 30″ – 300″ | 28″ – 302″ | 30″ – 300″ | 30″ – 300″ | 30″ – 300″ |
| Speakers | 5.0 Watts × 2 | 10.0 Watts Mono | 10.0 Watts Mono | 8.0 Watts × 2 | 16.0 Watts Mono | 5.0 Watts Mono |
| Price | Check on Amazon | Check on Amazon | Check on Amazon | Check on Amazon | Check on Amazon | Check on Amazon |
Brightness
In a light controlled home theater space, brightness isn't much of an issue. For lights-on viewing, though, it's best to get a projector rated for at least 2,500 lumens. In a bright space with lots of windows, you should bump that up to the 3,000-4,000 lumens range.
With 4,000 ANSI lumens, the Epson Pro EX9240 is the brightest projector on the list, followed closely by the 3,600 lumens of the Optoma EH335. Either one has the power to produce a clear picture in any indoor light environment.
Brightest projector: Epson Pro EX9240
Throw Distance
How much space you'll need to get a big picture depends on the throw of the projector's lens. Standard throw projectors will need somewhere between 8 and 15 feet between the lens and screen to produce a 100" image. For smaller spaces, an ultra-short throw projector will be a better choice, producing the same size of image with mere inches of distance.
The Epson EpiqVision Ultra LS300 is the only short-throw projector on the list. You can set it up as little as 1 inch away from the screen or wall, and even a big 120" image will only need just over a foot. This isn't just good news for oddly-shaped or small rooms, but also gives it an easier overall installation, with no need for mounts or other hardware.
Shortest throw distance: Epson EpiqVision Ultra LS300
Gaming Performance
While specs like picture quality and brightness still matter to gamers, the more important concern is input lag. This measure how long it takes for user input to reach the screen. If it's too high, there will be a frustrating delay, especially when playing competitive online games.
The BenQ TH685i is designed with gamers in mind. Along with a super-low 8.3ms input lag, it has a high frame refresh rate to prevent blur, frame tearing, and other on-screen issues, so you can just sit back and play.
Best projector for gaming: BenQ TH685i
Built-in Streaming
In a modern streaming-based home theater, a built-in TV interface is a convenient feature, allowing you to control the projector and your content through a single remote. This is also helpful in multi-use spaces, saving the wired inputs for gaming consoles and other devices.
Three of the projectors reviewed here have built-in streaming and wireless capability: the Epson LS300, Epson 2250, and XGIMI Horizon. Of the three, the Android 10.0 interface built in to the XGIMI Horizon is the most advanced and intuitive to navigate, and also comes with Google Assistant voice search, a convenient hands-free navigation option.
Best built-in streaming: XGIMI Horizon
---
Epson EpiqVision Ultra LS300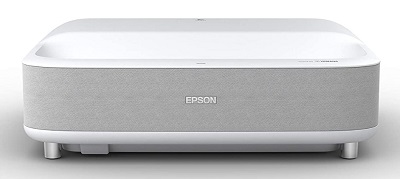 The Epson EpiqVision Ultra LS300 is a user-friendly home entertainment machine. It's ready to use right out of the box and has a fast, easy installation. This starts with its throw distance, which is short even by short-throw standards, producing a clear image from just an inch away and needing only 11" for a 100" screen. The only caveat here is that it doesn't features like keystone correction or screen rotation, so you will need the ability to place the projector head-on to the wall.
Connecting content sources is just as straightforward, with dual HDMI ports along with wireless connectivity that supports screen mirroring through Chromecast. And you may not need content sources if you mostly use streaming—the Android TV interface plays content from most streaming apps right on the projector.
Epson projectors use a 3LCD display that eliminates the flickering some viewers see from color wheels, for a wide color gamut everyone can enjoy. The high dynamic contrast and bright 3,600-lumen lamp combine with the full HD resolution for a sharp, clear picture in any light level. For sound, the Yamaha-designed 2.1 system has superior bass depth and mid-range clarity to what you'll get from most projector speakers, so you won't need to buy a sound system before you can enjoy it.
Wide color gamut with no rainbowing
Accepts 4K content
Ultra-short throw distance
Bright lamp works in any light level
Built-in wireless connectivity and screen mirroring
Android TV streaming with Google Assistant
Yamaha-designed sound system
No keystone correction
Input lag is too high for serious gamers
---
Epson Home Cinema 2250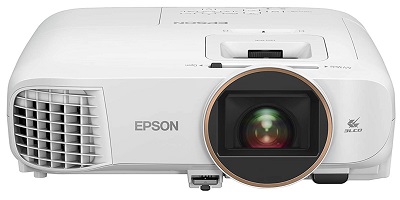 The Epson Home Cinema 2250 is one of the best projectors you'll find in the under $1,000 price range. It shares much of its picture technology with more expensive Epson models, including their 3LCD color system and Dynamic Iris contrast, with Frame Interpolation for reduced motion blur in fast-paced sequences.
Setting up the Epson 2250 is also relatively easy, though it does need a relatively large space—around 10-13 feet for a 100" screen, depending on the other settings. You'll get a good amount of flexibility within that space, however, with 15% vertical lens shift, a 1.6x zoom, and 2D keystone correction. As to the light level, its 2,700-lumen lamp will work well in most indoor light environments, though you may still want blackout curtains for daytime viewing.
The Epson 2250 is responsive enough for most gamers, with a 27ms input lag. That's low enough to be unnoticeable for most, whatever types of games you play. Its main limitation as a gaming projector is that only has a single HDMI input, meaning many PC gamers will need an adapter and multi-system gamers will need to switch between them manually. On the plus side it has a built-in streaming interface, so it can still be convenient in multi-use settings if you don't use a ton of content sources or game systems.
Accurate, bright colors with no rainbowing
Sharp images, even during on-screen movement
Android streaming interface
Low enough input lag for most gamers
Good range of alignment features
Supports 3D content
Excellent value
Long throw distance
Limited connectivity
---
Optoma EH335

Here's another great option for shoppers on a budget. The Optoma EH335 is a compact and straightforward full HD projector, weighing just over 6 pounds. Combined with its bright 3,600-lumen lamp, this makes it a perfect choice for teachers, business leaders, and event planners, performing equally well for presentations and displays as it does for home theater use.
A low input lag is another strength of the Optoma EH335, registering as low as 17ms at 60Hz. This makes it a great choice for gamers, especially since it has a broad connectivity to connect more systems, including VGA and composite inputs along with 2 HDMI ports. While it doesn't have a streaming interface built in, this range of connection options means most won't miss it.
The Optoma EH335 has a standard throw lens, so it does require a larger space (around 11-12 feet for a 100" image). There also aren't a ton of options to adjust the picture, though it does at least have a vertical keystone correction. This is the only significant weakness of the EH335, and if space isn't a problem it's overall an excellent value at the cost.
Crisp, high-contrast images with vivid color
Bright lamp
Low input lag
Full 3D support
Compact and portable design
Wide variety of connection options
No built-in streaming or wireless
Long throw distance
---
XGIMI Horizon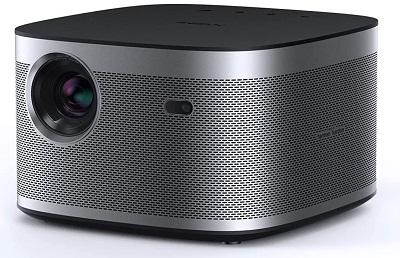 The XGIMI Horizon packs a lot into a small package. Its weight is similar to the Optoma EH335 at just over 6 pounds, with a unique cube design that's perfect for taking on road trips, or even just to the backyard for outdoor movie night.
You will need to wait until dark if this is your plan, though. At 2,200 lumens, the lamp is bright enough for some lights-on viewing but needs a relatively dim space to perform at its best. The XGIMI Horizon is smarter than most projectors in this regard, with a sensor that detects the light level and adjusts the brightness automatically. That same sensor lets it automatically adjust the focus and image alignment for a hassle-free setup.
While the maximum resolution of the XGIMI Horizon is full HD, it does accept 4K content. It also has a low enough input lag for most gamers and a wide connectivity perfect for multi-use spaces. Along with dual HDMI inputs, it supports both Wi-Fi and Bluetooth connections and has a built-in Android 10.0 streaming interface with Google Assistant voice search, so it's easy to fit into most home entertainment systems.
Automatic screen alignment and focus
Accepts 4K input
Optical sensor adjusts brightness to environment
Android 10 streaming interface
Wireless connectivity through Wi-Fi or Bluetooth
Excellent sound quality
Lightweight and portable
Low lamp brightness
Picture isn't as sharp as other options
---
Epson Pro EX9240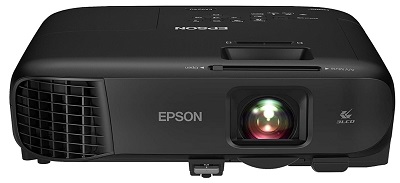 At 4,000 ANSI lumens, the Epson Pro EX9240 is the brightest projector on the list, and has the power to produce a detailed, colorful picture in any light conditions. The quality of that picture is high, too, with a sharp dynamic contrast and Epson's 3LCD display system.
While the bright lamp gives the EX9240 some space flexibility, it does still have a long throw distance, which will mean a ceiling-mounted installation for many. The 2D keystone correction and wide zoom make installing it a relatively fast process, though, and has a picture skew sensor that helps streamline the alignment process.
The robust connectivity of the Epson Pro EX9240 is another plus from a set-up standpoint. Along with wireless connectivity and device mirroring through Miracast, it has RCA, VGA, and HDMI inputs. It's also another model that will work just as well for presentations as in a home theater, with relatively good volume from its built-in speakers and a compact design that weighs less than 10 pounds. Click here for our more in-depth Epson Pro EX9240 review.
Powerful lamp suitable for any light level
Consistent, bright colors with 3LCD display
Good array of wired and wireless connection options
Horizontal and vertical keystone correction
Built-in skew sensor
Supports 3D
Long throw distance
Can't play 4K content
---
BenQ TH685i

For those looking for the best full HD projector for gamers, the BenQ TH685i is one you'll want to keep in mind. Putting it in Enhanced Gaming Mode drops the input lag as low as 8.3ms, backed up by a 120Hz refresh rate that keeps the on-screen movement smooth.
The Ben TH685i is equally impressive for home theater applications. Colors are bright and details crisp and clear across the image, with HDR support to ensure its accuracy and quality. The TH685i also supports 4K and 3D content, though both will play at the native full HD resolution. While it provides an immersive viewing experience, you will need external speakers to make the sound match the picture—the speaker installed in the projector is weak and lacking in the low end.
Instead of having a built-in streaming interface, the BenQ TH685i comes with an Android TV dongle. This serves the same purpose, but does mean you'll sacrifice one of the 2 HDMI ports to use it. There's also the option to mirror content from another device, though even so the connectivity is limited compared to other projectors. For our more in-depth BenQ TH685i review, click here.
High refresh rate and low input lag
Accepts 4K input
Includes Android TV dongle
Powerful lamp suitable for bright spaces
Digital lens shift and automatic keystone correction
Screen mirroring through Airplay or Chromecast
Weak built-in speaker
Limited connectivity
---
So What's the Best 1080p Projector?
Any of these projectors can be a great option for the right home—it all comes down to how you'll use it. For gamers, the BenQ TH685i has the responsiveness you need, while the portability of the XGIMI Horizon or Epson EH335 makes them ideal for on-the-go uses like RV trips and presentations. We hope this comparison has helped you decide which one is your perfect fit!
REFERENCES AND FURTHER READING:
This Article was first published by Projector Top.