A projector is a great affordable way to get a big screen experience in the comfort of your own home. And you can get this experience even if you're on a budget. If you're looking for the best projector under 600 bucks, you might be surprised by just how much quality you can get for the price.
Considering all the factors, the Optoma HD146X is our top choice. (>>> Check the current price on Amazon) It has the best overall picture quality along with a bright lamp and has a low input lag that makes it suitable for both gaming and home theater use.
Having said that, it won't necessarily be the right projector for everyone. The option of battery operation on the Anker Nebula Solar Portable is convenient for outdoor use, while the bright lamp and 3LCD display of the Epson EX5280 are ideal for professional use by teachers and business leaders.
Want to learn more? You've come to the right place! We'll break down what you need to look at in an affordable projector and review five of our favorite contenders.
Best Projectors Under $600 – Top Picks:
| | Optoma DH351 | Optoma HD146X | XGIMI Elfin | ViewSonic M2e | Epson EX5280 | Anker Nebula Solar Portable |
| --- | --- | --- | --- | --- | --- | --- |
| | | | | | | |
| Resolution | 1920×1080 | 1920×1080 | 1920×1080 | 1920×1080 | 1024×768 | 1920×1080 |
| Brightness (Lumens) | 3,600 ANSI | 3,600 ANSI | 800 ANSI | 400 ANSI | 3,800 ANSI | 400 ANSI |
| Contrast Ratio | 22,000:1 | 25,000:1 | 1,000:1 | 3,000,000:1 | 16,000:1 | 1,000:1 |
| Throw Distance: | 3.3′ – 32.2′ | 3.3′ – 32.2 | 3.5′ – 17.4′ | 2.6′ – 8.8′ | 3.6′ – 29.6′ | 2.6′ – 10.5′ |
| Image Size | 28″ – 302″ | 28″ – 302″ | 40″ – 200″ | 30″ – 100″ | 30″ – 300″ | 30″ – 120″ |
| Built in Speakers | 5.0 Watts Mono | 3.0 Watts Mono | 3.0 Watts × 2 | 3.0 Watts × 2 | 2.0 Watts Mono | 3.0 Watts × 2 |
| Price | Check on Amazon | Check on Amazon | Check on Amazon | Check on Amazon | Check on Amazon | Check on Amazon |
Best Projector Under 600 Buyer's 2021 Guide
You want to make sure to look at the stats of projectors in this price range. The unfortunate reality is that if it seems too good to be true, it probably is. You will need to make some compromises compared to what you'll get with a more expensive projector. (You might still want to check this Top projectors under 2000 guide)
The key to getting the best bang for your buck is to figure out which features you actually need, and which you can do without. Some things, like 3D or wireless capability, are easy for most people to let go of since they won't affect your typical viewing experience. There are 3 stats you'll definitely want to pay attention to, though, no matter your price range.
Brightness
Measured in lumens, this is an indicator of how much light is put out by the lamp. If the lamp is too dim, the colors will look washed out and the image will lose clarity. You'll also need to think about your space when you're looking at the brightness. The more ambient light is in the room, the higher the brightness will need to be to get the same picture quality.
For a completely dark room, you can get away with a brightness of 1,000 to 1,500 lumens. In a normal living room or conference room, though, you will need more lamp power—at least 2,500 lumens, although 3,000 is even better.
Brightest Projector: Epson EX5280
Throw Distance
The throw ratio is a measure of how much distance between the lamp and screen is required to get a screen of a given size. A short-throw projector can give you a screen of 150" or more from just a few feet away, while a standard projector will need to be at least 8-10 feet from the screen to produce a large image. (For our short-throw projectors guide click here)
Screen size isn't the only thing affected by the throw ratio. The further the lamp is from the screen, the brighter it needs to be to get the same image quality. Therefore, a projector with a short throw ratio can get away with a lower brightness.
Shortest throw distance: Anker Nebula Solar Portable
Resolution and Picture Quality
The native resolution of a projector tells you how many pixels the screen image will have. Similar to the resolution on a television, a higher resolution gives you a sharper, more detailed picture. A resolution of 1080p is equivalent to standard HD on a flat-screen TV, and is what you'll get from most projectors in this price range in 2021.
Just as important as the projector's resolution is its image contrast and color production. A higher contrast means a bigger difference between dark and bright areas, resulting in sharper lines and better image depth. A wider color gamut, meanwhile, enhances the realism of the picture, as well as keeping it authentic to the source signal.
Best image quality: Optoma HD146X, ViewSonic M2e
---
Full reviews
Optoma DH351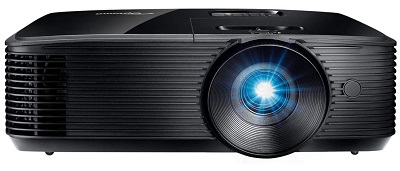 The Optoma DH351 is a versatile projector that can work just as well for presentations and other professional uses as it does in a home theater. Its bright lamp produces a vibrant, saturated picture even with relatively high levels of ambient light, one reason it's great for use in classrooms and conference rooms. It's a portable projector, too, weighing just over 6 pounds, so it's easy to take with you wherever you want to use it.
The picture quality of the Optoma DH351 is impressive for the price. Its 1080p resolution is paired with a 6-segment color wheel and Dynamic Black technology, further enhancing the color and contrast. You can even use it to watch 3D content, something you won't find on many projectors at the price point.
Since it's a standard throw projector, you will need a good amount of space for the Optoma DH351. Its connection panel is also limited, with just a single HDMI input, which may be an issue for more complex set-ups. These limitations aside, alignment features like zoom and keystone correction give it a relatively flexible set-up that's easy even if you're not an A/V expert.
Sharp full HD picture with good color and contrast
Bright lamp works in any indoor light environment
Lightweight and compact
Flexible installation with zoom and keystone correction
Full 3D support
Limited connectivity
Long throw distance
---
Optoma HD146X


For pure picture quality, the Optoma HD146X is our choice for the best projector in the price range. It uses the same advanced technology as Optoma's higher-end projectors, including a Texas Instruments DLP chip, a 6-segment color wheel, and Dynamic Black contrast enhancement. The end result is a sharp high-definition image with the same color depth and accuracy you'd expect in a movie theater.
The Enhanced Gaming Mode on the Optoma HD146X also makes it a good choice for gamers. The low 16ms input latency means no noticeable delay or lag. The picture is also better-optimized for gaming than other projectors in this price range, with better detail in dark areas and smoother frame-to-frame movement.
Now those sensitive to the rainbow effect may notice it with this projector, since it uses a 1-chip design with a color wheel. The HD146X also has a fairly long throw distance, so it may not be the best choice in small spaces. These issues aside, though, it's a versatile projector that's a fantastic value at the price.
Full HD resolution with 6-segment color wheel
Dynamic Black contrast technology
Low input lag in Enhanced Gaming Mode
Single-chip design makes aligning image easier
Relatively quiet operation
Bright lamp
May produce rainbow effect for sensitive viewers
Long throw distance
---
XGIMI Elfin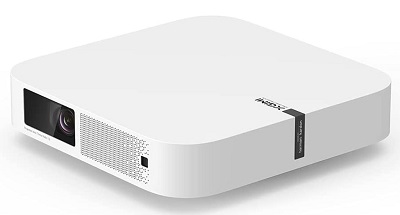 The XGIMI Elfin is one of the few smart projectors you'll find in the under-$600 price range. It has an integrated Android-based streaming interface with access to all the apps on the Google Play store, as well as built-in voice control through Google Assistant. It's also smart from an installation standpoint, with an image sensor to correct the focus and screen geometry, taking the guess work out of aligning the picture.
If you want a portable projector, the XGIMI Elfin is hard to beat at any price. Its slim design slides easily into a briefcase or backpack and it only weighs about 2 pounds, so you'll hardly know it's there. The built-in speakers and streaming help here, too, cutting down on the accessories you'll need to use it.
The main downside of the Elfin is that it's simply not that bright. The lamp only puts out about 800 lumens, and while the throw distance is shorter than many projectors it's long enough that ambient light will impact the picture. Even in a completely dark space the XGIMI Elfin's picture quality is okay but not great, with a lower contrast and narrower color gamut than other options on the list.
Wireless connectivity through Wi-Fi or Bluetooth
Android streaming interface with Google Assistant
Throw distance is on the shorter side
Automatic focus and keystone correction
Super portable design
Quality sound with Harman Kardon speakers
Requires a fully dark room
Low image contrast
---
ViewSonic M2e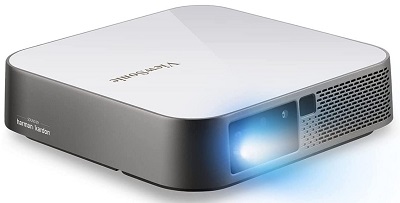 Weighing in at just over 2 pounds, the ViewSonic M2e is equally portable to the XGIMI Elfin above, with a similarly slim profile. It's just as easy to set up, too. Just turn it on and the built-in sensor will automatically adjust the focus and keystone correction, no need for manual fiddling. Along with an Aptoid streaming interface, it does have a mix of wired and wireless input options, as well as a memory card slot so you can play content you've downloaded.
Unfortunately, the ViewSonic M2e also shares the Elfin's main weakness: its lamp is weak and prone to washout from even small amounts of ambient light. This is the main reason we don't recommend it as a presentation projector, though it can still be a fine choice for backyard movie nights, camping trips, and other on-the-go uses.
On the plus side, the picture quality of the ViewSonic M2e exceeds most options in the price range. It has a high dynamic contrast and SuperColor+ technology for a color gamut about 25% wider than the Rec.709 spectrum. The result is a realistic and immersive picture—provided you're able to use it in a completely dark viewing area.
Color gamut exceeds Rec.709 spectrum
Low-maintenance with long lamp lifespan
Portable design
Aptoide interface for direct streaming
Easy to set up with auto-focus and 2D keystone
Good variety of wired and wireless connections
Lowest lamp brightness on the list
Limited apps available for direct streaming
---
Epson EX5280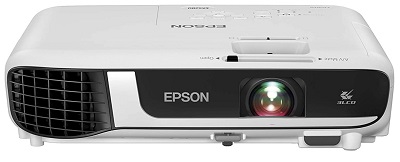 The Epson EX5280 is an excellent choice for those who need an affordable presentation projector. Its powerful lamp produces a clear, fully-saturated image even if you leave the lights on, perfect for meetings and classrooms.
The EX5280 is also portable and easy to set up, with a sensor for automatic skew correction and a robust rear connection panel that includes RCA and VGA inputs along with HDMI. You can further fine-tune the image with the manual focus and horizontal slider.
For home theater use, the main limitation of the EX5280 is its resolution. It accepts content up to full HD but plays it in XGA, otherwise known as Standard Definition, so it won't be as detailed and realistic as other projectors. This isn't an issue for text and graphics, however, and its 3LCD display keeps figures and writing clear at all screen sizes, with no risk of flickering or brightness hotspots. Click here for our more in-depth Epson EX5280 review.
Lamp is bright enough for lights-on viewing
3LCD color with no rainbowing
Automatic alignment with picture skew sensor
Supports 3D content
Robust connection panel
Low video resolution
Long throw distance
---
Anker Nebula Solar Portable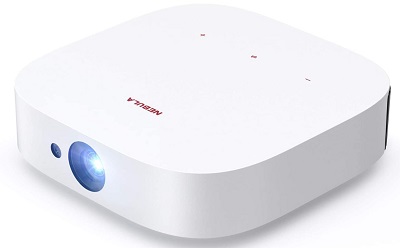 Most portable projectors still need a power source to operate. The built-in battery of the Anker Nebula Solar Portable runs up to 3 hours on a charge, so you can truly watch your shows and movies anywhere. Combine with its slim and lightweight build, this makes it arguably the most portable projector under $600.
The user-friendly installation is another strength of the Anker Nebula Solar Portable. It has a streaming interface and speakers built-in, giving it all-in-one, wire-free potential. There's also a stand built into the base, sparing you the need for a tripod.
In a completely dark room, the picture quality of the Solar Portable is okay. Its contrast and color are on the weaker side, though it does have full HD resolution. Like many portable projectors it's also relatively dim, maxing out at around 400 lumens, so it's not the best option if you want to watch with the lights on.
Full HD resolution with HDR10 support
Runs on battery power for up to 3 hours
Built-in stand with adjustable angle
Android streaming interface
Integrated speakers with Dolby Digital sound
Long lamp lifespan
Requires a dark viewing area
Narrow color gamut and low contrast
---
The bottom line: The best projector under 600 dollars
Considering all the factors, the Optoma HD146X is our top choice. (>>> Check the current price on Amazon) All of these projectors have their strengths and weaknesses—but all of them can be the right one for a certain kind of consumer. Figure out the demands of your particular space and use those to make your ultimate decision. You might be surprised by the kind of home theater set up you can get without blowing your budget.
REFERENCES AND FURTHER READING:
This Article was first published by Projector Top.