Are you looking for an all-in-one entertainment system for your home theater? The Hisense 100L5F could well be your answer. Its included screen, integrated streaming, and high picture and sound quality cover all the bases for an immersive movie watching experience. We'll break down its full pros and cons in this Hisense L5 review so you can make an informed decision about whether it's a good fit for you. (>>> Check on Amazon)
Hisense L5 Review of Main Specs:
| | Hisense L5 |
| --- | --- |
| | |
| Resolution | 3840×2160 |
| Brightness (Lumens) | 2,700 ANSI |
| Contrast Ratio | 30,000:1 |
| Throw Distance | 11.4" |
| Screen size | 100" |
| Speakers | 15.0 Watts × 2 |
| Price | Check on Amazon |
Set-up and Installation
The Hisense 100L5F comes with everything you need to watch shows and movies, no extra accessories required. This includes a 100" screen with ambient light rejection (ALR) technology that maximizes the contrast and overall quality of the image. The only potential downside of this is that the L5 is only designed to produce a 100" image, and doesn't offer the screen size versatility you'll get from most projectors.
The laser phosphor light source used in the Hisense L5 gives it an ultra-short throw distance, needing less than a foot between the projector and screen, so while it doesn't have a zoom or other alignment features this won't be an issue for most. (>>> Find more ultra-short-throw projector options) It does have both horizontal and vertical keystone correction, so you can still square the image if the projector can't be placed directly head-on to the screen. The light source puts out about 2,700 lumens, which is enough to support lights-on viewing, especially considering the ALR screen and short throw that together limit the impact of light pollution on the picture.
The integrated streaming interface on the 100L5F means many people won't need external content sources to watch their favorite shows and movies. It still has robust connectivity if you do want to use other devices, including 4 HDMI ports and wireless networking capability.
4K upscaling for lower resolutions
Comes with 100" ALR screen
Supports HDR10 and HLG
Ultra-short throw distance
Wide color gamut (exceeds Rec. 709 spectrum)
Built-in Android streaming interface
Smooth on-screen movement with no blur
Powerful, clear sound from built-in speakers
Only one image size (100")
Streaming interface takes a while to warm up
Picture Quality
The Hisense L5 supports the latest in cinema-quality video technology. Ultra HD content will play in true 4K, with upscaling for lower resolutions and support for HLG and HDR10 that gives all content rich black levels and crisp details.
The color performance of the Hisense L5 is impressive, too. It exceeds the Rec.709 spectrum that's the current broadcast standard, covering about 83% of the broader DCI-P3 color space. Its use of MEMC technology (Motion Estimation, Motion Compensation) reduces blur and keeps on-screen movement smooth, perfect for watching sports, action flicks, and other fast-paced content. Whatever you like to watch, it'll look great on the Hisense L5.
Built-in Speakers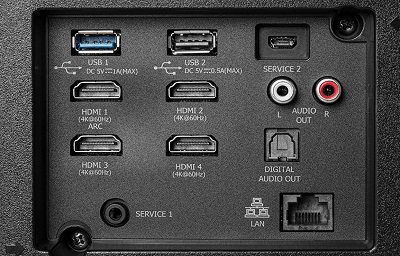 With dual 15-watt speakers, the sound output of the Hisense 100L5F is far superior to what you'll get from many home theater projectors. They're supported by DBX-TV audio technology to maintain the integrity and detail of the sound signal. Dialogue is clear and easy to understand, and it has the frequency range to do justice to soundtracks and effects, with a good amount of low-end depth and a detailed overall soundscape. Unless you want a full surround sound experience, you won't need to use external speakers with this projector.
Voice Control and Streaming
The integrated Android TV interface of the Hisense L5 supports a range of streaming services, including Netflix, Hulu, and YouTube. This is a convenient option, letting you control content with the same remote you use for the projector. Once it gets warmed up the interface is easy to navigate and responsive. That does take a couple of minutes, however—one of the most consistent complaints about the 100L5F is that the streaming interface is sluggish for the first 5 or so minutes every time you use it.
Google Assistant voice control is built in to the Hisense L5. Just press the voice control button on the remote and you can search for content, adjust the volume, or change inputs. It's a full Google Assistant, too, so you can do things like check the weather or order dinner right through the projector.
Hisense L5 Review: The Bottom Line
The MSRP of the Hisense L5 is around $4,000, and while you can find it for a few hundred bucks less at some retailers it's still on the high end of the price spectrum for a home theater projector. That said, the included screen is a big value add, and many users won't need other accessories like speakers or content sources, either. Ultimately, the quality of the picture and build, along with the short throw and easy installation, are worth the investment. It all comes down to whether you're willing and able to spend a bit more to get top of the line equipment. (>>> Check the current price on Amazon)
This Article was first published by Projector Top.