Home theater projector technology has come a long way in the last ten years. While you'll still need to shell out a few grand to get a cinema-level picture in your home, a truly immersive picture is no longer reserved for luxury home theaters.
In this review, we'll compare the JVS NX5 vs. Epson 6050UB, both of which produce an exceptional picture quality and could be a great fit for a modern home theater. While the picture quality of the JVS NX5 is higher, the Epson 6050UB will be a more convenient choice for many users (>>> Check on Amazon). Let's take a closer look at their differences so you can find the right one for you.
JVC NX5 vs Epson 6050UB Side by Side:
JVC NX5
Epson 6050UB
Resolution
4096×2160
1920×1080
4K w/pixel shifting
Brightness (Lumens)
1,800 ANSI
2,600 ANSI
Contrast Ratio
400,000:1
1,200,000:1
Input Lag
40ms
23ms
Throw Distance
12.3′ – 20.7′
10.3′ – 29.4′
Screen size
60″ – 201″
50″ – 300″
Speakers
No
No
Price

Check on Amazon

Check on Amazon
Resolution
The Epson 6050UB uses an S2 Pixel-Shift Processor that gives it a resolution sharper than full HD. The down side is, it's not quite as detailed as true 4K displays.
The JVC NX5, on the other hand, actually exceeds the resolution of most 4K displays, with 8.8 million on-screen pixels compared to the 8.3 million of typical ultra HD. Combined with its high native contrast and exceptional color performance, this gives it one of the best displays you'll find on the home theater projector market, period.
Sharper resolution: JVC NX5
Brightness
Projectors with a standard throw distance are more susceptible to loss of image quality from ambient light, and that makes the brightness of the lamp an important factor. You can get away with a brightness as low as 1,000 lumens in a completely dark room. If you want to leave the lights on, a brightness of at least 2,000 lumens is a better lower end.
The JVC NX5 puts out about 1,800 lumens. You can leave a few lamps on without ruining the picture, but you'll definitely want blackout curtains for any windows in the viewing area. The Epson 6050UB is brighter, at 2,600 lumens, giving it more flexibility when it comes to the space's ambient light level.
Brighter lamp: Epson 6050UB
Gaming
Input lag is the key spec for gamers. This is a measure of how long it takes for your input on the controller to show up on the screen. A long delay can make fast-paced games virtually unplayable, but even a short lag can be a problem for more competitive players. Serious gamers look for an input lag of 30ms or lower, with some gaming projectors registering a lag as low as 4ms.
The input lag of the Epson 6050UB measures as low as 23ms, well within the ideal range. With the JVC NX5 you'll get an input lag around 40ms—still fine for casual play, if a bit high for serious players.
Better for gaming: Epson 6050UB
---
JVC NX5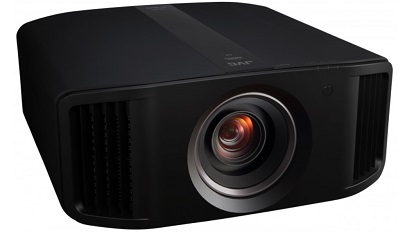 The JVC NX5 uses the same advanced technology as the high-end models in JVC's catalog. This includes a precision-tooled all-glass lens that maximizes the sharpness and brightness of the image. Motion Enhance technology prevents blur during fast action sequences, with HDR10 and automatic tone mapping for vibrant, accurate colors.
Basically, the NX5 will give you a cinema-level picture. The caveat of this is that it's built for a dedicated theater space. It needs a relatively dim room for you to see it at its best, with a long throw distance that works best in a large room. As long as your space meets these needs, though, it gives you a good amount of flexibility, with horizontal and vertical lens shift along with a powered 2x zoom and vertical keystone correction.
The low latency mode on the JVC NX5 drops the input lag to around 40ms. That's just outside the range serious gamers look for, but low enough casual players shouldn't have any issues while they're playing. It also supports multiple 3D formats, so it's versatile across a wide range of content. For our more in-depth review of the JVC NX5, click here.
Resolution exceeds standard 4K
17 element all-glass lens
Incredible color and contrast
Smooth, blur-free movement
Flexible installation
Full 3D support
Not suitable for use in bright spaces
Lag is too high for serious gamers
---
Epson 6050UB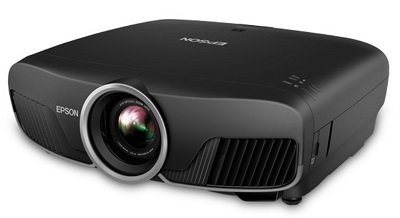 The ZX Digital Imaging Processor of the Epson 6050UB is paired with a 3-Chip LCD display. The result is a smooth response with no motion blur and accurate, fully-saturated colors, with no risk of flickering or the rainbow effect.
The 6050UB plays 4K content, and it does have a resolution above full HD. It achieves this through pixel shifting, effectively doubling the pixels of full HD, though not quite reaching the resolution of a true 4K display. One advantage of this processor is that it makes the projector overall more responsive. This is good news for gamers, dropping its input lag below the 30ms threshold that's the standard for serious gaming.
While the Epson 6050UB costs about the same as the NX5, it comes with a spare lamp and a ceiling mount included. This not only adds value, it helps you install the projector faster and saves you the need to wonder over which mount you should buy.
Vibrant colors with no rainbowing
Sharp contrast with UltraBlack technology
Low enough input lag for serious gaming
Includes a ceiling mount
Supports 4K and 3D content
Wide connectivity
Resolution is lower than true 4K
---
The Verdict: JVC NX5 vs. Epson 6050UB
As is often the case, how you plan to use the projector is the most important factor in your decision. If straight picture quality is what you're after, the JVC NX5 is your winner. For gamers, the Epson 6050UB has a lower input lag that makes it suitable for network play and serious players (>>> Find on Amazon). It also has a brighter lamp, giving it a bit more versatility for lights on viewing. Either way, you'll get exceptional contrast and color for all your favorite content.
REFERENCES AND FURTHER READING:
This Article was first published by Projector Top.