Are you setting up a high-end home theater? Not just any projector will do. Today's top of the line projectors have an image quality indistinguishable from what you'd get in a movie theater, with advanced processing and technology for an immersive, realistic picture at any size.
Comparing the JCV NX7 vs Sony 715ES, they're very similar at first glance, and both occupy the top tier off the home theater projector market. Looking at all the factors, the Sony 715ES will be the better choice for most (>>> Check on Amazon), though it's a close contest and both will give you an exceptional movie watching experience. Let's take a closer look at the key specs.
JVC NX7 vs Sony 715ES Side by Side:
| | JVC NX7 | Sony 715ES |
| --- | --- | --- |
| | | |
| Resolution | 4096×2160 | 4096×2160 |
| Brightness (Lumens) | 1,900 ANSI | 1,800 ANSI |
| Contrast Ratio | 800,000:1 | 350,000:1 |
| Input Lag | 40ms | 39ms |
| Throw Distance | 12.3′ – 20.7′ | 12.5′ – 30.5′ |
| Screen size | 60″ – 201″ | 60″ – 300″ |
| Speakers | No | No |
| Price | Check on Amazon | Check on Amazon |
Resolution
The JVC NX7 and Sony 715ES both have a native 4K resolution, so if you're watching 4K content either one will give you the full detail and clarity you're looking for.
While 4K is becoming the standard, there's still a lot of content out there in full HD. The Sony 715ES has Reality Creation upscaling, bringing 1080p content almost up to 4K quality. This gives you a better, more detailed picture for whatever you're watching.
Sharper resolution: Sony 715ES
Color
The Triluminos display of the Sony 715ES produces vibrant, nuanced colors that enhance the depth and realism of the picture. Digital Tone Mapping ensures even color production across the screen and enhances the overall look of the picture.
As impressive as the color of the 715ES is, the JVC NX7 is exceptional in this regard. Its D-ILA display produces a color gamut wider than the DCI-P3 spectrum, with Auto Tone Mapping that gives it the same consistent realism and brightness.
Better color: JVC NX7
Installation Ease
These two projectors have a similar throw distance, and both require a large space to produce a big image. Luckily, both also have a motorized lens with 2D lens shift and powered zoom and lens shift controls that make it easier to get the perfect alignment.
There are two features that put the Sony 715ES ahead on this point. First, it has a Digital Focus Optimizer that ensures maximum clarity. Once you find the ideal alignment, you can save it in the Picture Position Memory, a handy feature for quickly switching settings to match different types of content.
Easier to install: Sony 715ES
---
JVC NX7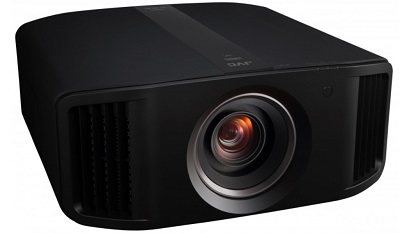 The incredible picture quality of the JCV NX7 starts with its all-glass lens array, which enhances the image clarity and maximizes the contrast. Its D-ILA display and Clear Motion Drive maintain clarity better during action sequences, with frame interpolation to ensure no blur or juddering on screen. Its color performance is just as impressive, exceeding the DCI-P3 spectrum that's the current cinema standard, with Auto Tone Mapping to ensure optimal color across the image.
The JVC NX7 is built for permanent installation in dedicated home theaters, and its design reflects this. The 1,900-lumen lamp is the ideal brightness for a dark room, and can cope with a low level of ambient light, but isn't the best choice for brighter spaces. You'll also need a good amount of space to get a big screen, and will need to use external speakers since there are none built in to the NX7.
In the right space, though, the JVC NX7 has a relatively flexible installation. The powered lens has horizontal and vertical lens shift, with a digital vertical keystone correction to square the screen geometry. It's also fairly responsive, with a low enough input lag for most casual gamers, though not quite low enough to be called a true gaming projector. Click here for our more in-depth JVC NX7 review.
Exceptionally sharp and clear picture
17-element all-glass lens array
Wide color gamut with Auto Tone Mapping
Full 3D support
Flexible alignment features
Suitable for casual gaming
Long throw distance
Low lamp brightness
---
Sony 715ES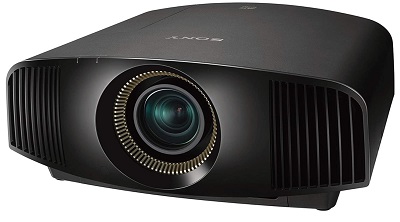 Like the NX7, the Sony VS715ES is made for use in high-end home theaters. Its lamp brightness is perfect in this setting, though on the dim side for spaces without light control, and it lacks built-in speakers, assuming you'll be using a surround sound system or similar external speaker.
These limitations aside, the Sony 715ES is a powerful and versatile projector. The aspherical lens and Silicon X-tal Reflective Display (SXRD) provide exceptional detail and clarity—and not just for 4K content. Reality Creation technology upscales full HD content from DVD and Blu-ray players to nearly 4K quality, with Motionflow to retain that clarity during fast action sequences. Dynamic Tone Mapping brings the same consistent quality to the color.
The Sony 715ES has a long throw distance, which can be a limitation in some spaces. On the plus side, it's easy to align and focus the image, with a Digital Focus Optimizer and a motorized lens with a wide zoom and lens shift. Its Picture Position Memory settings are helpful, too, letting you store settings for different types of content and switch between them quickly. For our more in-depth review of the 715ES, click here.
True 4K with dynamic HDR Enhancer
Reality Creation upscaling
Digital Focus Optimizer maximizes clarity
Smooth action with Motionflow technology
Motorized lens with wide lens shift
Picture Memory saves lens settings
Responsive enough for most gamers
No keystone correction
Low lamp brightness
---
The Bottom Line: JVC NX7 vs. Sony 715ES
A projector of this quality level is an investment, so you want to make sure you have the right space for it before you make your purchase. The focus optimizer and Reality Creation upscaling on the Sony 715ES give it the slight advantage (>>> Find on Amazon), but either of these projectors can provide an epic home theater experience.
This Article was first published by Projector Top.