Do you need a projector that can handle the latest generation games and play all your favorite shows and movies? You'll get this from both the Epson 3800 and the Optoma UHD38, which share strengths like a bright lamp, a low input lag, and a high picture quality.
In a side-by-side comparison of the Optoma UHD38 vs. Epson 3800, the Optoma UHD38 comes out as the winner in most categories (>>> Check on Amazon). This isn't to say the Epson 3800 is a bad option, though. Let's take a closer look at where they differ so you can decide which one is right for you.
Optoma UHD38 vs Epson 3800 Side by Side:
Optoma UHD38
Epson 3800
Resolution
3840×2160
1920×1080
4K w/pixel shifting
Brightness (Lumens)
4,000 ANSI
3,000 ANSI
Contrast Ratio
1,000,000:1
100,000:1
Input Lag
4ms
21ms
Throw Distance
4.0′ – 32.7′
6.2′ – 28.8′
Screen size
33″ – 300″
40″ – 300″
Speakers
10.0 Watts Mono
10.0 Watts × 2
Price

Check on Amazon

Check on Amazon
Resolution
The pixel shifting technology of the Epson 3800 produces about twice as many pixels as full HD displays. This doesn't quite reach the full detail of a true 4K resolution, however. For that, you'll be better off with the Optoma UHD38, which produces the full 8.3 million pixels of an Ultra HD resolution.
Higher resolution: Optoma UHD38
Brightness
Both of these projectors have powerful enough lamps you can use them with the lights on. The Epson 3800 produces about 3,000 lumens, which is ideal for most indoor light environments. If your viewing area has large windows, or you plan to use the projector in an outdoor or semi-outdoor space, the 4,000 lumens of the Optoma UHD38 will give you the extra lamp power you need.
Brighter projector: Optoma UHD38
Installation
Like most lamp-based projectors, the Optoma UHD38 and Epson 3800 need a good amount of space to produce a big picture. The Epson 3800 has a slightly shorter throw distance, and will produce a 100" image with around 10-12 feet of distance, as opposed to the 11-13 feet you'll need for the Optoma UHD38, but as you can see both will need a fairly large room.
The difference between the two comes down to their features for aligning and adjusting the image. The Epson 3800 has a wider zoom, and includes a lens shift option that gives it more flexibility, in addition to keystone correction for squaring the screen geometry. You'll still get keystone correction on the Optoma UHD38, but there's no lens shift and the zoom is narrow.
Easier installation: Epson 3800
Gaming Performance
For casual gaming, an input lag of around 60ms or lower is considered acceptable. Serious gamers look for an even lower lag, ideally less than 30ms and the lower, the better. The frame rate of the projector is a factor here, too. A higher frame rate translates to smoother movement on-screen, reducing the chance of juddering or in-game lag.
Both the Epson 3800 and Optoma UHD38 register an input lag under 30ms. The UHD38 takes a slight edge thanks to its Enhanced Gaming Mode, which drops the input lag as low as 4.2ms for gaming in full HD with a high 240Hz refresh rate that will give you smooth play of any game.
Better for gaming: Optoma UHD38
---
Optoma UHD38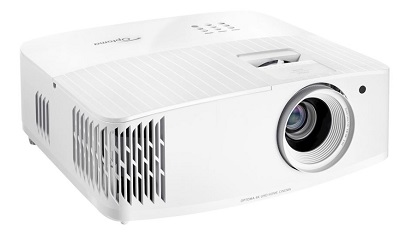 The Optoma UHD38 is an excellent multi-purpose projector. Its high picture quality is ideal for home theater uses. This starts with its true 4K resolution and high Dynamic Black contrast. For color, it uses an 8-segment color wheel with UltraDetail enhancement and support for technology like HLG and HDR10, giving it excellent depth and realism. The only caveat here is that those sensitive to the rainbow effect may notice it with the UHD38 since it uses a color wheel.
Flip the Optoma UHD38 into Enhanced Gaming Mode and it drops the input lag down as low as 4.2ms in full HD (16ms for 4K). Its 240Hz frame refresh rate prevents blurring and other issues, so you can get fully immersed in your game with no frustrating delays or image problems.
The bright lamp of the Optoma UHD38 lets it work in basically any light environment. It's not quite as flexible when it comes to the size of the space, however. It has a relatively long throw distance and is somewhat limited in its alignment options, with a narrow zoom and no lens shift. Click here for our more in-depth review of the Optoma UHD38
True 4K resolution with high dynamic contrast
UltraDetail image enhancement
Smooth on-screen movement
Bright lamp works in any light environment
Low input lag and high frame rate
Color wheel may cause rainbowing
Not as easy to install and align
---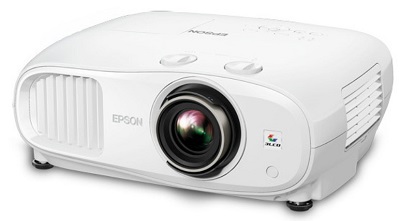 Epson uses a technology called pixel shifting to achieve Ultra HD resolution in its home theater projectors. The Epson 3800 produces about twice the on-screen pixels of full HD, though it's not quite as sharp as true 4K. The 3800 also uses Epson's 3LCD color technology, producing a wide spectrum of vibrant colors with no flickering or image issues.
Gamers will get as much value out of the Epson 3800. Its lag measures between 21 and 29ms, so while it's not as fast as the UHD38 it's still within the acceptable range for a wide range of game styles and systems. It also has a good connectivity for multi-use spaces, with dual HDMI ports and wireless networking options.
The throw distance of the Epson 3800 is similar to that of the UHD38, so it will need a larger room for a big screen. Getting it set up is easy, though, and it's flexible in its installation as long as you have enough space. This is largely thanks to the horizontal and vertical lens shift, along with 2D keystone correction and a 1.62x manual zoom.
3LCD color with no rainbowing
Sharp resolution and contrast
Accepts 4K and 3D content
Easy to install and adjust image
Responsive with a low input lag
Robust connectivity
Not true 4K
Long throw distance
---
The Verdict: Optoma UHD38 vs. Epson 3800
For most buyers, the Optoma UHD38 will be the better option (>>> Find on Amazon). It's brighter with a sharper resolution and a lower input lag. On the other hand, the Epson 3800 is better for anyone sensitive to the rainbow effect, and is a bit more user-friendly overall with a more flexible installation. Whichever one you go with, you'll get a high-quality projector suitable for any type of media.
This Article was first published by Projector Top.