In the past, projector buyers usually had to choose between high picture quality or a portable design—especially those who were shopping on the budget. With their Horizon line, XGIMI has changed the game for portable projectors, combining advanced image technology with a compact build and intuitive set-up.
But does it live up to the performance of larger projectors? We'll answer that question in this XGIMI Horizon Review. (>>> Check on Amazon)
XGIMI Horizon Review of Main Specs:
| | XGIMI Horizon |
| --- | --- |
| | |
| Resolution | 1920×1080 |
| Brightness (Lumens) | 2,200 ANSI |
| Contrast Ratio | No data |
| Throw Distance | 2.6′ – 26.2′ |
| Screen size | 30″ – 300″ |
| Speakers | 8.0 Watts × 2 |
| Price | Check on Amazon |
Design
The XGIMI Horizon uses an LED lamp source. Not only is this lighter and more compact than lamp-based systems, but it also lasts longer—up to 25,000 hours, depending on your use conditions. In terms of its light output, it produces around 2,200 lumens. That's plenty in a dark or dim space, though it will struggle in bright spaces. If you want to use it for backyard movies, for example, you'll want to wait until dusk to start.
This limitation aside, the XGIMI Horizon is the perfect projector for entertainment on the go. It's small and light enough to fit in a backpack, with a sturdy build and recessed lens so you won't be worried about it breaking on the way.
Its all-in-one design helps here, too. For sound, the Horizon has dual Harman Kardon speakers backed by DTS and Dolby Audio. In real-world terms, the output and sound quality are on par with most standalone Bluetooth speakers.
Streaming
Another thing that makes the XGIMI Horizon an all-in-one projector is its built-in streaming interface. It uses an Android 10.0 operating system, one of the most advanced you'll find on a home theater projector. Navigation is intuitive and it offers a robust array of apps, with access to anything you'll find on the Google Play store.
Along with the streaming interface, the Horizon comes with Google Assistant. Just press the button on the remote and you can search for and play content quickly, along with using all the other helpful features of Google Assistant like checking the weather or ordering dinner with your movie.
Sharp picture, even during fast-paced action
Automatic focus and alignment
Good sound quality from built-in speakers
Supports 4K content
Portable and lightweight
Variety of wired and wireless connection options
Built-in Android 10 streaming interface
Lamp is too dim for bright viewing areas
4K content is downgraded to Full HD
Installation
The XGIMI Horizon is a standard-throw projector, though it is on the shorter end of the range. Typical set-ups need about 9 feet of distance for a 100" screen. It's very flexible within that space, supporting wall/ceiling mounts, tripods, or table-top installations, and it can be set up either in front of or behind the screen.
The automatic alignment features on the Horizon make it an excellent choice for A/V beginners and first-time projector owners. Its intelligent adaption technology corrects the image keystone, focus, and alignment using an integrated sensor, no need for manual tweaking. This keeps going during the movie, with an obstacle avoidance feature that turns the lamp on if someone gets too close and automatic realignment if the projector is bumped during playback.
Picture Quality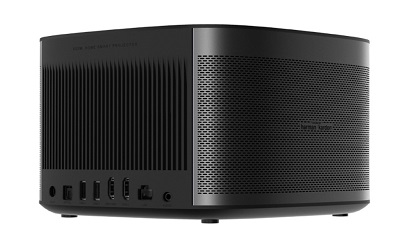 The native full HD resolution of the XGIMI Horizon is equal to most comparably-priced projectors, and it maintains detail well at larger screen sizes. You can still watch 4K content, as well, though it will be downgraded to the supported resolution.
The Horizon puts its intelligent design to work for the picture quality as well as the installation. Its AI Brightness Adjustment optimizes the color for consistently even and vibrant hues. Support for HDR10 brings that same sharpness and accuracy to the image contrast, with MEMC frame interpolation to prevent blur during fast motion sequences.
XGIMI Horizon Review: The Bottom Line
The XGIMI Horizon is designed to work in large, dim spaces. It's perfect for outdoor use at night, or indoor use any time of day (provided you have good curtains on your windows). Its road-worthy build is its main advantage over other models, and outweighs the low lamp brightness for most users.
Full HD resolution is to be expected considering the price of the Horizon. If you're looking for 4K you can get it for about $500 more with the Horizon Pro, but the image quality of the XGIMI Horizon is plenty high enough for most. Add in features like automatic focus and a built-in streaming interface and it's one of the best values on the home theater market today. (>>> Check the current price on Amazon)
REFERENCES AND FURTHER READING:
This Article was first published by Projector Top.